Email: Info@Renaissart.com
Phone:

(843) 324.5711

1123 Chuck Dawley Blvd
Mount Pleasant, SC 29464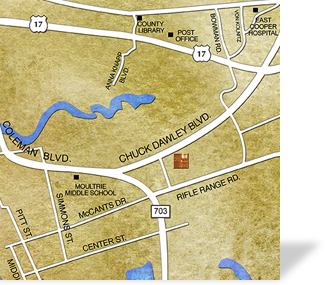 Click Here for Directions
Our office is located in beautiful Mount Pleasant, SC – just across the Cooper River from Charleston.

Charleston has long been considered the "Crown Jewel of the South" for its rich history, traditions, and Southern culture.
Mount Pleasant shares in that reputation, and hosts many of the nearly four million visitors a year to the Charleston area.
Home to the Patriot's Point Maritime Museum, Boone Hall Plantation and restaurant row on picturesque Shem Creek, Mount Pleasant has a well deserved reputation for world-class cuisine and outstanding hospitality. However, it is the beaches east of the Cooper that many consider the area's big draw for tourists and locals alike, and is certainly one of the reasons why Mount Pleasant is the fastest growing city east of the Mississippi.