What We Do
We provide creative and production services for all forms of visual media – both to clients directly, as well as through agencies and publishers.
At Renaissart Design, we strive to exceed our client's expectations on every project. We struggle to find solutions that combine our client's needs with our artistic sensibilities, then weigh the options against budget and deadline concerns and choose the correct course to bring the project in on time and on budget.
Our Services Include
Creative Direction, Art Direction, Graphic Design, Illustration, Web Design,
Digital Image Enhancement, Photography, Publishing, Print Management and much more.

Digital Image Enhancement
One of the more interesting things we do is akin to Digital Magic. Whether it's as simple as enhancing a skyline or more challenging like highlighting areas prone to stress in a
golf swing, if we can imagine it, we can probably do it.
While we are not versed in 3-D modeling, we do have an excellent source who does a remarkable job of bringing virtual objects and scenes to life.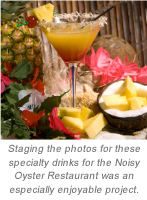 Art Direction
Since both clients and agencies often have a concept already in mind when they approach us with a project, our task is to then embody that creative direction – taking it from idea,
to reality. Staging photos, selecting the visual elements, choosing fonts and colors and tieing everything together in a comprehensive design is all part of Art Direction
Why Choose Us
Borrowing from a time when architecture was art… art was magic…
and magic was more than just slight of hand, Renaissart is more than just another graphic design firm. It's a philosophy… a commitment to the Art of Design and the Creative Process itself. Combining state-of-the-art technology with age-old skills, Renaissart promises to deliver the finest in Creative Graphic Services.
Experience
We bring more than 30 years of design experience to the table and have worked on both local and national accounts. Owner, John Chitwood, is a graduate of Ringling School of Art & Design and has a wide-ranging skill set. Beginning his career as an Illustrator, he has broadened his design expertise within Advertising Agencies, a Service Bureau, a Publishing Company and a Website Development Firm. Likewise, our network of creative associates are all seasoned professionals as well. We have close working relationships with web coders, printers, photographers,
marketing agencies, event coordinators, illustrators, copywriters, animators, videographers and producers. We can seamlessly manage these aspects of the project for you or provide sterling recommendations.
While we have been blessed with a very diverse clientèle, and are at home designing for almost any industry or profession, we have had extensive experience working with Festivals & Events, Real Estate & Development, Professional Services, Medical Practices and the Food & Beverage Industry.
Creativity
The true measure of creativity isn't in originating a great idea or concept,
but it's in making something tangible out of it. Clever ideas are a dime a dozen, but discerning the best one given the scope and goals of the project, then pursuing and distilling it until it is fully realized is the BUSINESS of design. Over the years we have won numerous design awards on both local and national levels – not just for great ideas, but for great execution.